Aidan's C is for Chocolate at Moosebrook
"Hershey"
CH Liege's Red Badge of Courage x Celticmoon's Sundrop At Aidan RN PT NAJ NF FDCH-S
Owned by Nancy Hehre, co-owned by Erin Gorney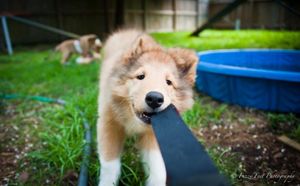 Hershey, aka Mr. Man, was the lone boy in our Badger x Ellie litter. As a puppy, he constantly made us laugh with his silly antics and full of himself attitude. It was a really hard decision to let this one go because we absolutely adored him, but at the time, we did not need another male. To our delight, Hershey has gone to live with our good friend Nancy Hehre of
Moosebrook Collies
in Mississippi.